multifunctional biomass pellet mill plant
As a leading Chinese manufacturer and supplier of pellet production equipment, all of our machines have won CE and ISO9000 certifications. Besides, they have been exported to many countries and won good reputations worldwide. We also have successfully established many large projects of wood pellet plants both domestic and abroad.
Multifunctional Biomass Pellet Mill Plant
Our multifunctional biomass pellet plant, MPL300, is actually a small biomass pellets production line that includes all the necessary equipment. It is multifunctional and efficient due to its adopted advanced technology. The pellet mill in this plant is ZLSP300B R-type.
The raw materials of biomass pellets made by this multifunctional biomass pellet mill plant have a wide range, like: rice husks, sawdust, corn stalk, cotton stalk, twigs, wood chips, wood shavings and other wooden materials, alfalfa, bagasse, and peanut shell, etc.
The finished pellets made by our small biomass pellet plant have high density (about 1.1-1.3t/m3) and smooth and delicate surface.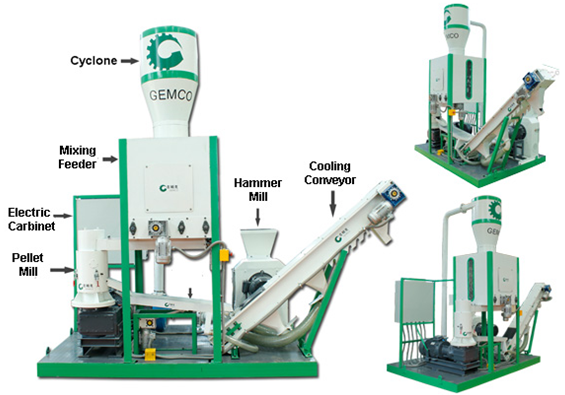 Technical Parameter of Multifunctional Biomass Pellet Mill Plant
| | |
| --- | --- |
| Model | MPL300 |
| Capacity | 250-350kg/h(or 350-450kg/h for ZLSP400B pellet mill) |
| Pellet diameter(mm) | 6-12 |
| Power(kw) | 41.25 |
| Size(mm) | 3500*1960*3500 |
Video of Multifunctional Biomass Pellet Mill Plant

Detailed Information of Multifunctional Biomass Pellet Mill Plant's Key Parts
MPL300 multifunctional biomass pellet mill plant equipment list
No.
Equipment Name
Features
Power (kw)
Ⅰ Crushing system
1
Hammer Mill
It's with 15 hammer blades, by changing the different position of the blades, it's suitable for crushing woody or biomass or forage material with size less than 20 mm (diameter), the size of the output crushed material can reach diameter 3-5mm.


Hammer Mill
2
Pneumatic Conveying Unit
This unit includes one 2.2kw air blower, wind pipeline and cyclone separator. It will transport the crushed material into bin for mixing and storage. It's connected with vibrating screen and bucket conveyor with semitransparent soft pipes to cool the pellets, and collect the powder and dust.
ⅡMaterial Mixing, Storage & Conveying Section
3
Material Mixing, Storage Bin
It's with 1m3 volume, its shell is made of 2.5 mm steel plate. There are two portholes on both sides for monitoring and observation. Four paddle type mixers is driven by one 0.75KW motor. The highest material level for this bin is at 800mm from the bottom.


Storage Bin
4
Screw conveyor
The input port for mixed material is at the bottom of the bin. It's 112mm in diameter, 1023 mm long. It is to feed the mixed material into the pellet mill, and is driven by frequency conversion speed controlled motor, 0.18 KW, frequency conversion range is 30~60 Hz.
Ⅲ Pelletizing Section
5
Pellet Machine
This ZLSP-300B R-type pellet machine makes 0.4 ton wood pellets per hour by using pure sawdust. The water adding system is connected and available to adjust the moisture content of the mixed material. We can make 6, 8 mm pellets (diam.).


ZLSP300B R-type pellet machine
6
Water Tank
This tank can carry 100 L water. The water pump is at 24V, capacity : 5L/min, water discharge pressure: 8.5kg, flow meter capacity: 0.2-2GPM
Ⅳ Sieving & Pellet Conveying Section
7
Vibrating sieve
3.5*3.5mm Mesh, with 0.37KW power. The size of the mesh can be changed according to your requirements. One φ45mm soft pipes is connect to collect the powder and dust.


Vibrating Sieve
8
Scraper conveyor
It's driven by chain, the scraper size is at 145mm. The size for single section is 2436*437*484 mm. The length and height of this conveyor can be extended by adding and connecting one extra section. There are five positioning joints at the end of the conveyor, you can adjust the height and angle of the conveyor easily. Two φ100mm soft pipes is connect to cool the pellets.
V Auxiliary Equipments
9
Steel structureABS
With Anti-skidding steel floor


Electric components
10
MCC control centre
The electronic components in this system are made by Schneider Electric with international standard. The manual operation control system is adopted. You can easy control this plant according to your demands. Two frequency converters are used to control the speed of the Screw Conveyer and Scraper Conveyor. The control cabinet is with dust prevention. The emergency stop and smart power lock is adopted.
Total power for above all
41.25kw
Screw Feeder
The feed-in capacity can be adjusted consistently and stably to ensure sufficient supply of material and avoid surplus feedstock, which guarantees the excellent performance of pellet machine.
PRODUCT LIST
RECOMMENDED PRODUCTS